I've been sitting on the decision whether or not if I should publish this post for a while now. I consider myself an advocate for loving yourself for who you are, so I am embarrassed to admit that I sometimes feel the pressure to constantly look well put together and 'pretty', especially as a blogger where my pictures are publicized for all to see. As a society, we have now generated this unrealistic expectation for both males and females to look a certain way to be deemed desirable. Reality is, no one wakes up with contoured cheekbones and perfect hair. That needs work! Even Victoria Secret models have a team of hair and makeup artists on hand to make them look flawless. Acne is deemed as a taboo subject however after my recent experience, I wanted to share my journey of living with cystic acne with those who are currently suffering as it is more common than we assume.
My battle with cystic acne began towards the end of last year and has haunted me for the past few months. Not only were the effects physical, it also impacted my psychological wellbeing. My self esteem dropped as did my body confidence. I started to become depressed and seriously unhappy. If you know me, you'll know I'm usually a very happy and positive person and this impacted my ability to socialise with my peers, friends, family and even my boyfriend. I would avoid bright lights and looking people in the face for too long, just so that they wouldn't notice these angry red lumps that have erupted on my face. Leaving the house without makeup was out of the question. I've honestly tried every remedy out there to treat it, hide it, cover it. Over the counter topics and gels that promised to help didn't work. Antibiotics had no avail. Heavy concealer and foundation just masked the bumps. I became OBSESSED.
Just to clarify, these spots were not your typical pimples you get every now and then from a poor diet or not taking your make up off at night. These spots were extremely painful, red and very angry, sometimes even hot to the touch. Cystic acne is different to normal acne as it stems from a hormonal inbalance. What triggered my outbreak was from going on the pill and my body was just rejecting the contraceptives in the most vicious way.
Luckily, I stumbled across skin experts at Pro Skin when I was invited to their store launch in Shepherds Bush. The experts were on hand to discuss any skin problems I may be facing as well as introducing several of their most popular treatments such as their Laser Hair Removal, Picosure Tattoo Removal and 3D Lipo. One treatment that caught my eye was their Theraclear treatment, targeting multiple causes of acne by using a combination of light and vacuum.
I was introduced to skin expert Magdalene, who was extremely knowledgeable and understood exactly what treatment I required, especially as my cause was hormonal. I was recommended 4 treatments, with a 7-14 day break in-between. The first step was with just the vacuum and light to ease my skin into the process. As my skin got used to the process, Magdalene would target each cyst with the handpiece and prick it with a needle, withdrawing all the bacteria. The light then cleanses and seals the small wound, preventing any bacteria from harnessing and developing.
Deep breath.....
Here you can see the shocking images from my first treatment... *hides*
I required 4 treatments in total are here are the results after 2 months...
You can see the drastic improvement to my skin! This is with a light BB cream and concealer - I had one pesky pimple that day (time of the month and all)
5 months later, my skin is radiant and I am constantly getting compliments from friends and strangers how good my skin looks. I very rarely get any spots anymore and my skin has never felt healthier or firmer. The areas Magdalene targeted has killed off the bacteria and prevented spots from coming back (touch wood) I'm even happy to leave the house without makeup! I still have minor pigmentation where my skin scarred from picking at my spots (A DEFINITE NO NO!) but other than that the results have been outstanding. The old happy and confident Maria is back in full force!
I don't think people who has never experienced problem skin would ever understand the extent of the effect it has on your confidence and self esteem which is why I decided on publishing this post. I wanted to show you that this is a very common problem and that there are treatments out there that do work.
Pro Skin charges £199 a pop and I couldn't recommend them enough. The ladies who work there are extremely professional not to mention super friendly and sensitive to your problems. Thank you Magdalene and your team and ProSkin for going above and beyond to help me feel safe and comfortable! You can book your free consultation HERE - http://www.proskinclinics.com
Below are some items that have been tried and tested by yours truly that won't break the bank.
Prep your skin with
Cliniques' Anti Blemish Acne Solutions
to get rid of makeup and dirt - this kept my skin fresh and cool especially after the Theraclear treaments.
Tea Tree is renown for treating scarring and spots. Now that my spots have calmed down, I use
Body Shops' Blemish Face Night Lotion
before bed to even out my skin tone and fade pigmentation.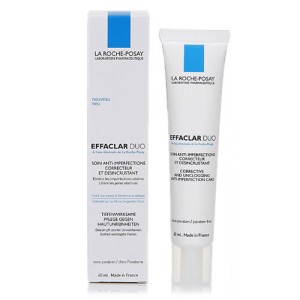 A bloggers favourite, a product which is worth the hype. I used
Effaclar Duo
religiously when I was suffering from cycstic acne before bed and in the morning before applying makeup and it calmed down redness whilst I slept and also served as a matt primer.
Vichy Dermablend Concealer
- a heavy coverage concealer that is highly pigmented and lasting power whilst still light and easy to apply. My savior during breakouts when I wanted a flawless complexion.
Boots very own
Natural Collections' Corrector Stick
is a green concealer that you apply underneath your normal concealer. The green pigment colour corrects the redness in the spots so that your concealer will appear more true to colour. At £1.99 it's a steal!
Have you suffered or currently suffering with problem skin? What are your top hints and tips? I want to hear about your experiences! Leave a comment below